Social media marketing in China is critically important if you want to increase your business's recognition, traffic, and sales with little to no cost.
Chinese people spend on average 2.4 hours a day on social media, more than half a billion Chinese are active online, and over 882 million people use social media sites in China. China appears to be more developed in the social media arena in comparison with the European countries and the US.
So, it's a no-brainer that you will miss out on an astounding opportunity if you do not leverage social media to grow your business. And an agency specialized in offering social media marketing services in China can help you here.
But we don't want you to take our word for granted. Here are several benefits of the social media marketing that will help you understand why it's the perfect time to start exploring social platforms in China.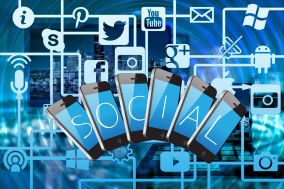 Connect with Potential and Existing Customers
Social media platforms in China like WeChat, an instant messaging social media platform helps users to stay connected with the brand they prefer to connect with. It is similar to widely known WhatsApp and Facebook messenger.
WeChat has more than 1.2 billion monthly active users (MAU). This represents an enormous market in which companies like you can connect with consumers.
It gives you the opportunity to further connect with customers and allows your potential and existing customers to stay updated with your brand as they have access to instant information directly from you.
Increase Sales through Social Networks
WeChat comes with a money-sharing device that enables its users to share money between friends and also buy products through WeChat pay. In fact, WeChat appears to be way ahead of its western counterparts in relation to payment systems across social media.
However, in China, where cash is decreasingly common, resulting in the rise of money-sharing platforms such as WeChat can do wonders and prove to be an important resource for companies like you in the future.
Increase Endorsements
Chinese consumers rely on recommendations from friends and family before making a purchase from a brand. According to a study, 66% of Chinese consumers acknowledge the importance of recommendations from their relatives and friends as a factor when making a purchase decision, as opposed to 38% of those surveyed in the US.
Popular social media platforms in China such as Weibo and WeChat helps consumers effectively share and recommend products and brand to followers. Such advocacy is well received by Chinese people, as they tend to trust friends and family recommendations.
An agency offering social media marketing services in China will help you impress your customers enough so that they share positive feedback with their friends, family members, and followers.
But it's not that the feedbacks will always be positive. If your consumers are unhappy with your products or services, they may write negative reviews on social media platforms. This allows you to respond and manage any issues in a timely manner and address and solve problems effectively.
Long story short, social media networks in China allow your customers to share both positive and negative feedback about your business. Both of these can be rewarding to your business.
Positive feedback translates into increased purchases of your products and service while negative feedback helps you address issues and improve your business, product, or service. In both cases, you win.
Marketing at Low-cost
Social media marketing in China is the most cost-effective part of a marketing strategy.
You don't need to pay anything to sign up and create a profile. Also, any paid advertising you decide to invest in is a relatively low cost compared to other marketing initiatives.
This means you can witness a greater return-on-investment (ROI) and retain a bigger budget for other business and marketing expenses.
A social media marketing service provider in China will help you start small and see what you should expect. As you become more comfortable, they would fine-tune your social media marketing strategy and increase your budget accordingly.
Just by spending a small amount of money and time, you can significantly increase your conversion rates and eventually get a higher ROI.
So, do you've any questions about social media marketing in China?