Online or digital marketing is gaining tremendous pace. With access to any and everything in the world at your fingertips, the online consumer market is growing upwards and onwards. Furthermore, with digital boundaries blurring, buyers and sellers on either side of sovereign borders are now enjoying instant transactions of coveted foreign goods. This buzz-worthy dynamic is most prominently seen in China.
Digital marketing in China is growing at a substantial rate, providing innumerable great opportunities for international businesses. However, its lure has only added to the long list of competitors and made the market difficult to crack.
Here are five digital marketing tactics that online startups can use to enter the coveted Chinese e-commerce market.
1. Digital marketing in China using Chinese e-platforms
The Chinese government is notorious for strongly controlling and censoring online content. Many searches on popular American platforms are prone to be censored, and it is a commonly known fact that standalone foreign sites take a long time to load. This prompts potential clients to click elsewhere. Hence, it is important to sell in China only on recognized platforms.
Hosting your sales on Chinese e-platforms such as Taobao will give your business a big push. Taobao is a popular platform where millennials and younger buyers typically shop. The most popular e-commerce platform, however, is Tmall. It accounts for a majority of the Chinese e-commerce market, and therefore, is the best means to sell in China, online.
Some other equally popular and lucrative platforms are JD and Baidu.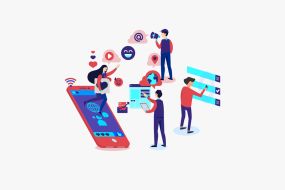 2. Digital marketing in China using Chinese social media platforms
The reach of social media platforms in China is astronomical. Hundreds of millions of people surf social media platforms every day. Setting up your brand on platforms such as WeChat or Weibo is an important step to gain access to millions of potential customers.
Once your brand establishes a strong social media presence, organic growth is bound to follow. Interesting content, comprising of attractive images with less text is a sure hit among Chinese buyers. Compelling content, complete with attractive deals, also makes people share your posts with family, friends, co-workers, and acquaintances.
3. Digital marketing in China using influencers and key opinion leaders
Social media marketing in China offers the ability to make use of a spokesperson for your brand—key opinion leaders (KOLs) or influencers. Brands can sign deals with KOLs or social media influencers either through monetary sponsorships or through product sponsorships. In exchange, your product gets noticed by their vast audience. A significant percentage of social media users follow at least one KOL, therefore, using them to boost the organic growth of your brand on social media is highly recommended.
4. Digital marketing in China using local payment methods
Chinese buyers avoid incessant use of their credit cards for each transaction. This necessitates for your brand to have local payment integrations. For instance, businesses can couple their official payment accounts with the WeChat payment system to receive payment. Overseas business owners and vendors can use their cross-border payment gateway both for online and offline sales.
5. Digital marketing in China with branding that connects
International companies often sell in China with a pretentious Chinese veneer. Branding conceptualized without the Chinese buyer in mind, will most definitely fail to connect with the consumer.
Companies that have historically found success in the China e-commerce market reached the pinnacle with correct branding. They had China in mind while branding.
Expanding to the Chinese market offers your company a chance to tap into the consumer potential of nearly 1.4 billion new consumers. The road map to a successful digital marketing strategy in China is riddled with challenges; however, it is surely not unachievable. With these tactics up your sleeves and with the help of expert professionals who can guide you on that path, you are off to a great start.